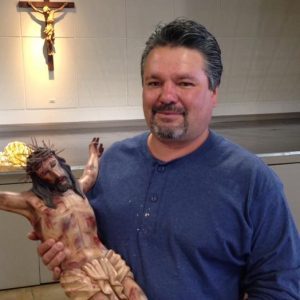 Commissions by Fernando Giron
The Altar at St. Daniel's
Here you can see the crucifix and the two side sculptures as well as the altar piece. The three sculptures were painted and the altar piece was covered with gold foil.
Fr. McGuire with Mons. Giovanni Braschi, Rector of the Shrine of St. Philomena in Mugnano del Cardinale, Avellino, Italy at St. Daniel the Prophet parish church in Scottsdale, Arizona in front of the beautiful statue of Saint Philomena.
St. Philomena (in process)
St. Philomena, shown in the niche to the left of the crucifix, is carved in wood and painted by the artist. It was done to the specifications of Fr. Thaddeus McGuire, pastor of St. Daniel the Prophet.
The corpus of the crucifix
This corpus to go on the cross is being prepared in the artist's studio.
This is the raw wood carving of St. Daniel the prophet between the two lions, sculpted to fit in a niche at the church.
Representing The Finest in Religious Art