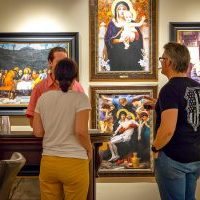 Complete the form below to be added to our mailing list.
Our emails will include information on art shows and other upcoming events as well as special offers.
Gallery Summer Hours:
Mon - Sat: 11AM TO 4PM
Open Thurs until 9 (ArtWalk 7-9pm)
Closed Sunday & Monday
7165 E. Main Street
Scottsdale, AZ 85251
Don't hesitate to ask.
Email us directly at ask@thesacredartgallery.com or call us at 480-946-1003. No matter where you are in the country, we would be happy to work with you. The Sacred Art Gallery ships worldwide.
Representing The Finest in Religious Art
-To do something beautiful for God
-To enrich and inspire lives
-To bring people closer to God through beauty in art
-To support and encourage artists to create fine religious art
We are here to help fill your need in religious art, whether as an inspirational piece for your home, as a large project for your church, or a gift of beauty for a loved one.