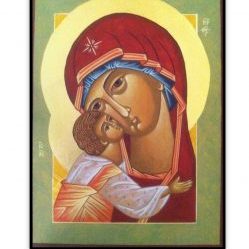 The gallery will occasionally host speakers discussing various aspects of religious art.
We also will network with artists teaching religious subjects and styles and include here a list of available workshops.
Because of our limited space, we are unable to provide a workshop space in the gallery.
Please contact the Instructor for Each Class
Check this page regularly to see upcoming classes.
If anyone is teaching religious art classes, please send us the information and we will include your class on our page.
ask@thesacredartgallery.com
Welcome to Sacred Illuminations Iconography Retreats!
Iconographer and Art Therapist Brenda Fox will take you on a spiritual and artistic journey of silence, prayer and painting as you create a Byzantine style icon from start to finish.  No former art experience necessary!  "Eikon" is Greek for icon which means "Image: A Window into the Divine."  Icons are created in prayer for the purpose of prayer which tells the story of Christianity, or the Gospel in paint.
Upcoming Retreat Dates Are:
August 30 - Sept 2, 2018
October 4 - 7, 2018
October 18 - 21, 2018
December 6 - 9, 2018
February 21 - 24, 2019
April 25 - 28, 2019
Upcoming Class in Colorado
Iconography Retreat Weekend
Aug 30 - Sept 2, 2018

Grace & St Stephens Episcopal Church
Colorado Springs, CO

Icon to be written: to be announced
Contact 
Brenda
 Fox for information and to register @ (602) 574-4016