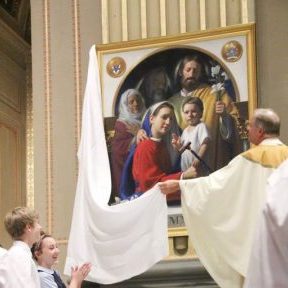 Do you have a need for a particular piece of artwork for your sacred space?
Many of our artists have built their career doing commissions,
especially for churches and institutions.
For inquiries:
ask@thesacredartgallery.com
t: 480.946.1003
If you have a need for a particular kind of artwork to complete your vision, whether a monumental sculpture or a small painting, please contact us.
We will match you with an artist that can collaborate with you to make your dream a reality.
Below are samples of some of pieces commissioned by our artists.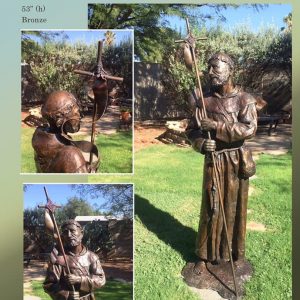 Brian Donahue, a third generation craftsman, learned the fundamentals of art from his father, renowned Western Artist Vic Donahue. Brian started an independent research program, taking continuing education courses such as Liturgical Art and Architecture from the University of St. Mary's of the Lake, Mundelein, IL, Religious Symbology, and Celtic Christianity from various sources.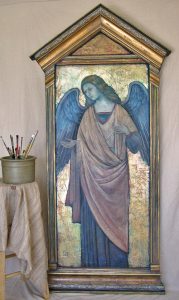 Lisa Fitzgibbons has great versatility in subject and theme and her wall murals include Guardian Angels, Archangels, Patron Saints, Byzantine, Greek, Roman, Madonna and child, Frescoes.
Neilson received a BFA in Illustration from the University of the Arts in Philadelphia. He completed his studies privately under figure painter Michael Aviano, a pupil of the legendary instructor and illustrator Frank J. Reilly. Through Aviano, Neilson traces his instructional lineage directly to the academic painting tradition of 19th century France.
Major Sculpture Commissions: Over 30 life size editions and Stations of the Cross reliefs placed in over 40 churches internationally since 1992.
"Why work for churches? Because the church is filled with stories, and an artist is, after all, a story teller too."
Recently commissioned to do a series of murals on the essential truths of Christianity by one of the world's largest denominations, these four new pieces form the cornerstone of the upcoming worldwide We Believe Campaign. Last year, Ron unveiled the long awaited Resurrection Mural, a two year endeavor that produced a 12 foot x 40 foot mural that is the largest known contemporary depiction of Christ's Resurrection in the world. The Resurrection Mural was just selected by the prestigious ARC as one of the world's top 100 pieces of Fine Art.
Vivian Imbruglia is an iconographer from Rancho Cucamonga, CA. She has been writing icons since 2005, having completed nearly one hundred works ranging is size from something you could hold in your hand to large images nearly five feet tall. Her original icons can be found in homes, churches, convents, and monasteries, as well as even the Vatican.
Eric Armusik
Eric studied in Todi, Italy and his style is style is strongly influenced by Italy's Baroque painters Caravaggio and Artemisia Gentileschi, Michaelangelo, Bernini, Caravaggio, Rubens and Donatello.
He has built his career doing large commissions for churches and collections.
Representing The Finest in Religious Art
-To do something beautiful for God
-To enrich and inspire lives
-To bring people closer to God through beauty in art
-To support and encourage artists to create fine religious art
We are here to help fill your need in religious art, whether as an inspirational piece for your home, as a large project for your church, or a gift of beauty for a loved one.